Shake, Rattle and Roll - Software and Gear Noise
By Matthew Jaster, Senior Editor
Some truth about gear noise: Electric motors compared to combustion engines are close to inaudible. For both electric and hybrid vehicles the engine noise that is covering the gear noise is gone, therefore, in low-speeds when tires and wind noise are low, the demands to the gears are much higher concerning noise.
Zoller Highlights Smart Factory Solutions
By Matthew Jaster, Senior Editor
Zoller Inc. has a new digital playground in Ann Arbor, Michigan. The tooling, inspection and tool management company now has 44,000+ sq. ft. of space to serve its North American customers. The entire product line is available at the new facility for training and demonstrations. This gives customers and clients a chance to collaborate with Zoller on the latest manufacturing technologies.
---
Gear Carburizing in Vacuum

Solar Atmospheres provides low pressure vacuum carburizing (LPVC) that significantly increases the surface hardness/strength of steel parts for improved friction and wear. Performing LPVC in a vacuum furnace eliminates oxygen and prevents IGO (intergranular oxidation) that is inherent in atmospheric carburizing, resulting in clean parts with less distortion reducing post process finishing operations, and costs.

Read More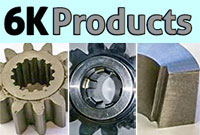 Internal Splines and Keyways Made Easy

New insert tooling to cut precision blind or open end splines and straight or tapered keys in standard machine tools. 360-264-2141 sales@6kproducts.com

Read More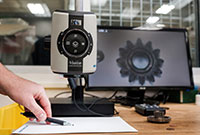 Forest City Gear Takes a Closer Look

Forest City Gear uses an EVO Cam advanced full-HD digital microscope for faster visual inspection of precision parts. As compared to the traditional stereoscopes typically used for visual parts inspection, the EVO Cam offers Forest City Gear a much faster and more accurate way to detect for burrs, tears and other surface finish anomalies that might exist in workpieces after machining.

Read More